Contact Us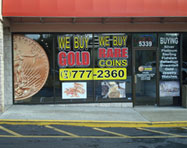 If you would like more information about our services, please feel free to contact us. We appraise and buy all types of jewelry, such as gold and silver pieces, coins, and sterling flatware.
Tampa Bay Coin & Precious Metals
5835 Memorial Highway
Suite 10
Tampa Florida 33615
Phone: (813) 777-2360
Hours of Operation:
Monday - Friday
Saturday
Sunday
10:00AM – 5:00PM
10:00AM – 2:00PM
CLOSED
Some Services
At Tampa Bay Coin we buy and sell all kinds of items from your closet, attic or storage space. Come on in and get your items appraised today. We're always looking for:
Coins
Silver
Platinum
Sterling flatware
...and more!
Quick Contact